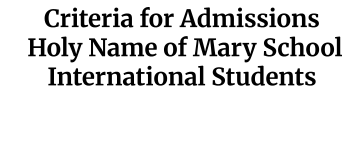 Students must be living with their parents. Students are not permitted to live with host families.

Must agree to international student tuition.

Must agree that curriculum will not be altered for international students.

Must understand that school will not provide a translator.
ADMISSIONS
TOEFL Junior – for 11+ years or Skype interview for students under 11 years old.
Immunizations must be current.
Complete three (3) Archdiocesan Forms:

Cover Sheet

Application Form

Natural Parent Form

$900 for new students or $300 for transferring students (mail order or cashier's check)

$125 mailing fee if mailing out of the country
School Application Form

$100
Copy of student's passport/Visa and parent's passport/Visa.
Holy Name of Mary School will review all I-20 documents and interview (Skype or personal) the applicant. When the student has been accepted to Holy Name of Mary School, the I-20 packet will be sent to the Archdiocese of Los Angeles who will review and issue the I-20.
Students may apply to the school directly or through an International Student Exchange Visitor Placement Organization (ISEVPO) registered with the California Attorney General's office and whose contract has been approved by the Archdiocese.
Once an I-20 is issued, the student must contact the United States Consulate in his/her home country for an interview. At this interview, the student will either be issued or denied the F-1 Student Visa.
After the Application Process is complete, the student will receive an Acceptance Packet providing directions for Registration.
Official translated copy of the student's school transcripts.
Proof of financial responsibility: certified letter from parents(s) bank verifying total amount translated into American dollars for tuition, additional $2,500 for living expenses, and transportation. OR, if a guardian will be responsible for the student's tuition and living expenses, a copy of the guardian's most recent Federal income tax form must be submitted.
Addresses: The I-20 application requires foreign address, foreign telephone, local address, local telephone (the U.S. address must be where the student will reside while attending school).
A Student Transferring an I-20/SEVIS number presently in an active status must submit all the steps above except the charge is $300 instead of $750.
Student must notify former school, who issued the I-20, to transfer the "ACTIVE" SEVIS number to the Archdiocese of Los Angeles Holy Name of Mary School on the Homeland Security Website.
Provide a copy of the active I-20 and SEVIS I-901 payment receipt. Receipts may be obtained at www.fmjfee.com using your SEVIS number.
A student may not begin school until the Transfer and Documents are received. Students may not attend schools on a Visitor/Tourist Visa (B1/B2/B3).
TUITION
$9,000 – Includes all fees (scrip, fundraising, field trips (not including Sacramento or Washington, D.C.), athletics, etc.
ADDITIONAL INFORMATION
School will send information regarding Dennis Uniform.
Personal uniform items, health insurance, spirit gear, other extra-curricular activity fees are not included in tuition and are the responsibility of the parent or guardian.
Health insurance can be purchased from Myers-Stevens & Co. in Mission Viejo, California, (800) 827-4595.
Students attending school on an F-1 Visa are expected to fulfill the requirements of the I-20 agreement and will receive a transcript. F-1 students are expected to comply with the school handbook guidelines.